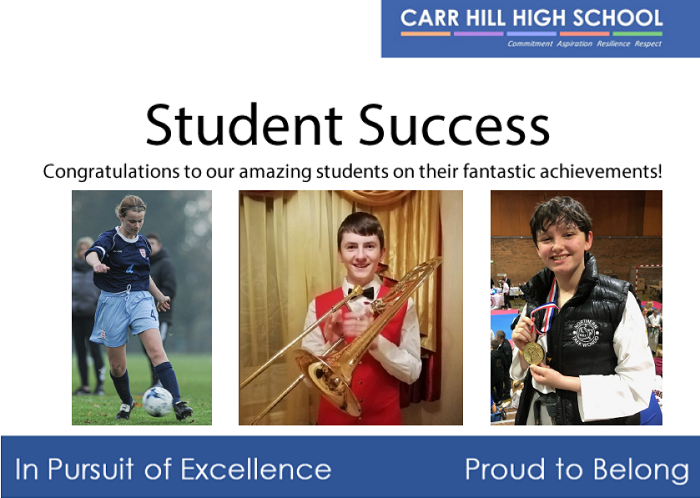 Taekwondo Championships
Well done to one of our Year 10 pupils who took part in The British Open in Manchester recently.
An amazing performance, true determination and skill led to a well deserved Gold medal in the aged 14-17 age category.
A huge well done - we could not be prouder.
Football Success
As a school community, we are extremely proud of Holly in Year 10, who has been successfully selected for the third and final trial for the ESFA U15 girls international squad which will take place at Lilleshall on Sunday 12 December. She will represent the North in a match v the South squad where the final squad will then be selected. Well done Holly, for getting through the first and second trials and good luck for the match on Sunday.
Here is a photograph that was taken at the second ESFA trial at Lilleshall.
U16 Squad Selection for 2021/22 Season
This follows Holly's successful selection for the Lancashire girls U16s squad for the 2021/22 season. This will be Holly's third consecutive season and follows a number of rigorous trials in the selection process.
There were around 70 girls that attended the trials and the standard was extremely high. The coaching staff stated in their letter that they were very thankful for all the efforts the girls had made, but it left them with some very difficult choices to make.
Fantastic news Holly, congratulations!
National Youth Orchestra Invitation
Fantastic news for Daniel in Year 10, who has received a bursary from the British trombone society, and also received an invitation from the National Youth Orchestra of Great Britain inspire team. In September, Daniel took part in a conference in Wells Cathedral school, this conference was a gathering of top hearing and deaf musicians across the UK. Daniel show-cased a success story of children with hearing loss. This conference was professionally recorded and Daniel had to perform in front of the TV cameras. A nerve wracking experience, but he managed well. The full film about this event will be released at a later date and used for deaf awareness courses.
We are extremely proud of Daniel and all he has achieved.
Music Recital and Speech
Here is a video of Daniel playing his trombone and explaining what music means to him.
A message from Kearsley Youth Brass Band
"If you are discovering music, and you have hearing loss yourself - Don't be afraid" (Quote from Daniel) We're extremely proud of our Trombonist, Dan, for delivering a speech and recital down in Wells, as part of the "Are You Listening?" conference! Dan has moderate to severe hearing loss, but through the trombone he has grown into an incredibly mature, and confident musician! Congratulations Dan! KYBB is very fortunate to have you in our ranks!"