Sixth Forms, Colleges and Apprenticeship Opportunities
More information about Upcoming Events and Useful Information, including FE Open Events and Apprenticeship opportunities, can be found by clicking the link here - Careers - Events and Information
Useful Documents and Information
AKS Lytham Sixth Form Prospectus
Blackpool & the Fylde College Prospectus
Cardinal Newman College Prospectus
Prospectus'
AKS Lytham Sixth Form Prospectus
Blackpool & the Fylde College Prospectus
Cardinal Newman College Prospectus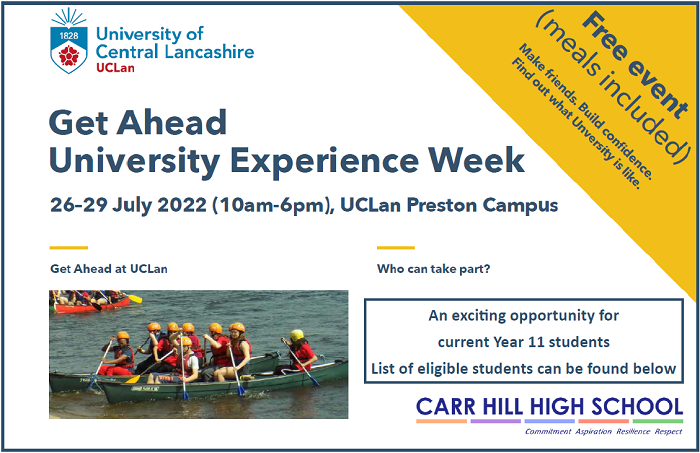 Get Ahead - University Experience Week
University of Central Lancashire are offering an amazing opportunity for current Year 11 students (who are eligible) to take part in a week-long all inclusive taste of Uni life. The event is free to students and will allow them to gain valuable skills in study techniques, team working, leadership skills, problem solving and much more. There will be practical and fun activities over four days, which will empower students, introduce them to Higher Education (Degree courses) and give an insight into Uni living.
Pupils must be from one of the following groups -
The Experience Week runs from 26th - 29th July 2022 (10am - 6pm) at UCLan Preston Campus.
Make friends - Build confidence - Find out what University is like
More info, and a link to register can be found on the poster here - UCLan Get Ahead - University Week Poster
Apprenticeships Information
Find out how to become an Apprentice, what apprenticeships are available and which employers offer them. The Parents/Carers pack is full of useful information regarding all aspects of Apprenticeships, and the Schemes Information shows local employers and what is on offer.
Parents and Carers Pack - Apprenticeships Information
Apprenticeships Schemes Information
BAE Systems
Take your first steps in a career that challenges, rewards and evolves. At BAE Systems you'll be working on exciting, world-leading engineering and business projects from day one, whether you join us for work experience, an internship or apprentice role. If you want to help deliver cutting edge technology that really counts, we have the best in the business waiting to mentor you and help you develop a career where you'll make a real difference. Find out more by clicking here.
BAE Systems Apprenticeships
BAE Systems Apprenticeships
BAE Systems Apprenticeships info and brochure
BAE Systems Submarines Prospectus
Local Apprenticeship Scheme
Plumbs
Local company Plumbs are recruiting for Apprenticeships. They work in partnership with North Lancs Training Group to provide the programme and it is a great opportunity to earn, as you learn a traditional trade. For more information, including applying for these roles, click below -
Virtual Work Placements from Speakers for Schools
Speakers for Schools and their partner employers are now offering exciting remote placements, that enable young people to learn more about green roles in industries they are interested in and help them make decisions about what kind of job they would like to do in the long term.
New virtual work experience opportunities recruiting now, for a full list of placements, click the link here or sign in here to search and apply.
Apply as soon as possible to have the best chance of success.
Careers
Parents & Carers Information - Careers