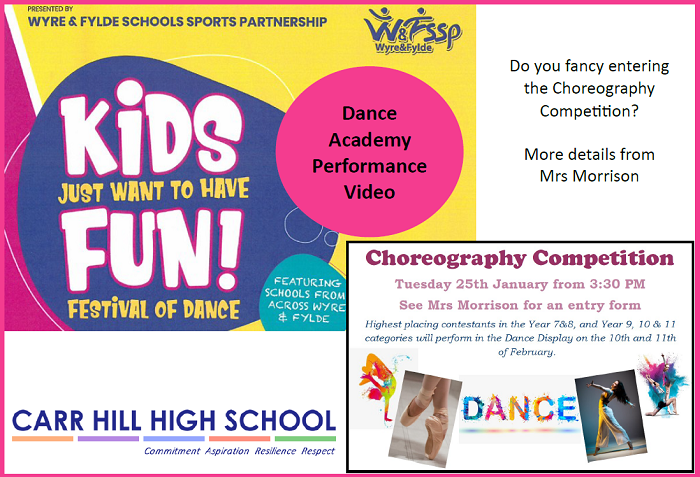 The same week we held Mary Poppins in school, Carr Hill Dance Academy were asked to perform at "Kids Just Want to Have Fun", Wyre & Fylde Schools Sports Partnership annual Festival of Dance, now in its 12th year. This wonderful charity and Community event supports the Winter Gardens Trust, and is now a huge spectacle featuring over 27 schools, with talented children performing and showcasing dance in Schools, from all across Wyre & Fylde Coast. The advert stated - You will not be disappointed! - and the show was a huge success.
The Dance Academy performed excellently, making Mrs Waldron and Mrs Morrison very proud. A video of their performance can be seen below -
Choreography Competition
Rehearsals are already in full swing for our Dance Display and more information about the show will follow. If you fancy entering the Choreography Competition, see Mrs Morrison for an entry form, the competition will be held on Tuesday 25th January after school.
Mary Poppins DVD Sales
Apologies for the delay, we have had a number of set backs (including illness) which has meant the DVD release has been delayed. More information about how to order your DVDs, payment and collection, will be fully advertised as soon as possible in the new year. In the meantime, here are a selection of photos from the dress rehearsals -