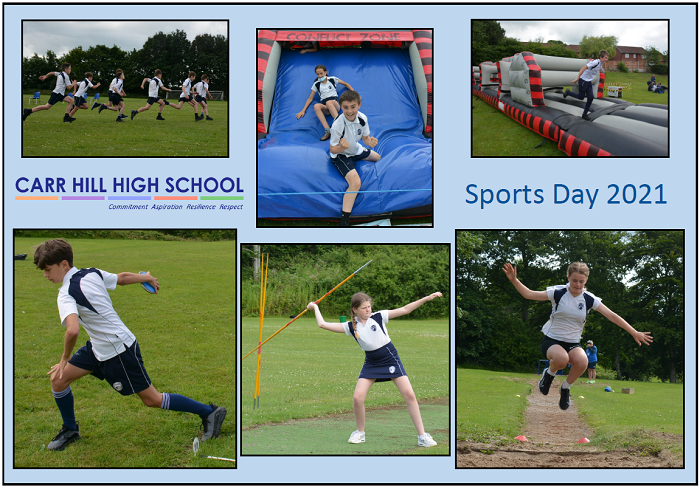 What a fabulous end to last week we had with 2 days devoted to Sports, Thursday was Field events and Friday was Track events. Friday was a whole school Sports Day for all students, with races and a turn on the giant inflatable obstacle course. It was a real joy to see the excitement that we could finally hold this event, especially after missing out last year due to lockdown. All year groups were kept in their separate bubbles and the inflatable was thoroughly cleaned before the next bubble was able to have their turn.
Teams were selected in their mentor groups and one student from each mentor group was able to compete in each category. Many students took part in sports that they had not yet had a chance to do in lessons, which takes a tremendous amount of courage. There was an air of competitiveness surrounding all the different events, as the photos below document.
Thursday was run each year group individually, starting with Year 7, then Year 9, then Year 8, followed by Year 10 to finish. The sports included Long Jump, Triple Jump, Discuss, Javelin and Shotput on the field. High jump was held at the same time in the Gymnasium. All students engaged enthusiastically and there were many notable successes, including Joe in Year 9, who managed to win the High Jump competition with a height of 1.6m!
On Friday, all students were in PE kit and waited for their turn on the field. Year 7 and 8 were first, kept separate in their bubbles and running their races in order; long distance first and ending with the sprint races. Everybody put their all into the races and we are very proud of all the students who took part. Once Year 7 and 8 left for lunch, it was the turn of Year 9 and 10, kept separate in their bubbles. Year 9 raced with such enthusiasm and there was a fantastic mix of students racing for their mentor groups.
The photos below show the range of events and the effort that was put in, all students who took part should be very proud of themselves. Sports Day is a fun way to celebrate everything that has been taught in PE lessons and to have a try at events students may not have had the chance to do before, as many PE lessons have been lost during the pandemic and remote learning. Thank you to all the staff who had a part in organising or running the event, and well done to all who took part.