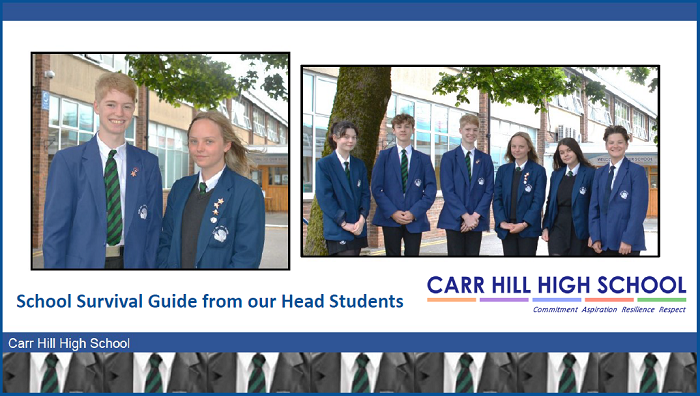 "If you're looking for tips on how to survive secondary school, you've come to the right place! And don't worry, we're the experts." Our Head Students, Fin, Paighton, Edward, Katie, Josh and Olivia, have created a wonderful presentation which new Year 7 students may find very helpful. With useful tips and tricks, including what to expect from the school day, this Survival Guide is a great addition to our Transition page and I'm sure many new students will be glad of the pointers. See the presentation below -
School Survival Guide
Transition Information
Please visit our Year 7 Transition page for more information, this includes all the information you need about the school day, travelling to and from school, equipment, uniform and much more.
Year 7 Transition to Carr Hill 2021
Head Students
We are very proud of our newly appointed Head Students, who were elected after a vigorous selection process. They will lead a team of Prefects who will help around school and we hope that the next academic year will see a return to some of the usual duties these roles entail.