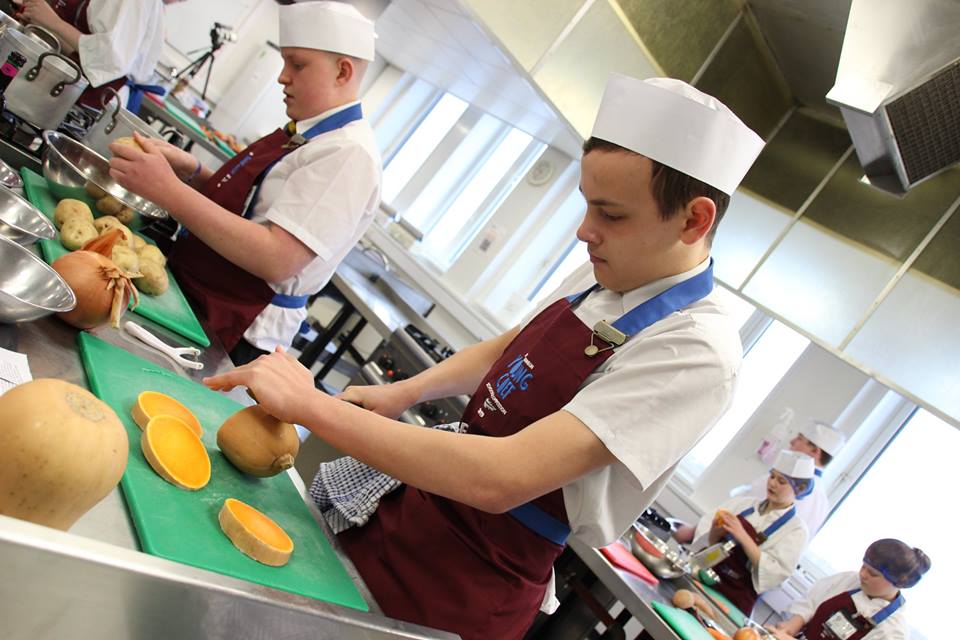 Two teams of Year 9 students have been placed 2nd and 3rd place at The Reg Johnson- Young Chef Schools Competition final- making it through a challenging regional heat and keeping their cool under pressure at the final.
Each team was asked to create two dishes in two hours at the final held at Blackburn College, working with some ingredients that had been preselected by the award winning chefs who were judging the competition. The teams, which were made up of Callum and Jayden and Nathan and Thierry, were asked to use chicken for the main and create a modern twist on a classic trifle dish for the dessert but everything else was left to their creativity.
Callum, who made chicken with wild garlic mayonnaise and citrus sauce for his main alongside teammate Jayden, said: "We were pleased to make it through the regionals to the finals. Of the eight teams in our regional heats only two teams went through and both were from Carr Hill High School. At the final there was pressure but it was a good opportunity."
Nathan, who made disassembled trifle alongside his teammate Thierry for the dessert part of their two courses, said: "We were given the chance to have a masterclass with the award winning chefs before the final started. It was brilliant to learn more about how to prepare and organise your time in the kitchen. It definitely helped us before the final started."
Head of Year 8 and Food and Nutrition teacher Mrs O'Donnell said: "All four students performed incredibly throughout the competition and used their creativity to make some impressive dishes from scratch. All four students are keen chefs and some hope to work as chefs in the future so I hope this experience and given them a further taste of what to expect."
Reg Johnson was known as 'the poultry legend' and put the village of Goosnargh on the map, thanks to his Goosnargh corn-fed chicken and Goosnargh duck.The Reg Johnson Young Chef Schools Competition has been developed to celebrate the enthusiasm that Reg had for encouraging innovation and developing young inspiring talent within the catering industry.
Reg Johnson