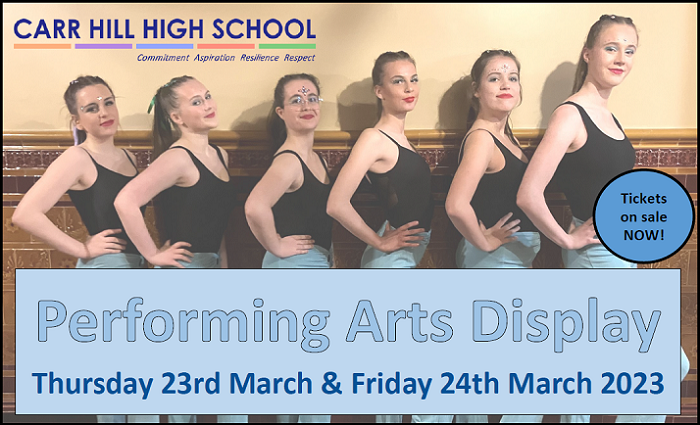 It's only a week until our Performing Arts Display, and rehearsals are going well. Mrs Morrison has 85 students taking part in this show, and is looking forward to showcasing the talents of our BTEC Dance and Drama students, alongside other students performing from the other year groups. The students who were successful in the Choreography Competition will also be performing their own pieces, and there will be a section from the show that we performed in November, Matilda The Musical.
Tickets are on sale now, so don't delay in getting them sorted! The tickets are priced at £8 for Adults and £5 for Concessions. Students - Please see Mrs Morrison before school or at lunchtime to purchase your tickets. Parents / Carers - Please call the school office to order your tickets or email Mrs Morrison (on the email address below).
The show starts at 7pm, and will be held in the Hall at School. There will be refreshments and a raffle too. Tickets will be on sale on the door for those who haven't purchased them beforehand.
Any problems, please do not hesitate to get in touch with the school office or Mrs Morrison on amorrison@carrhill.lancs.sch.uk.