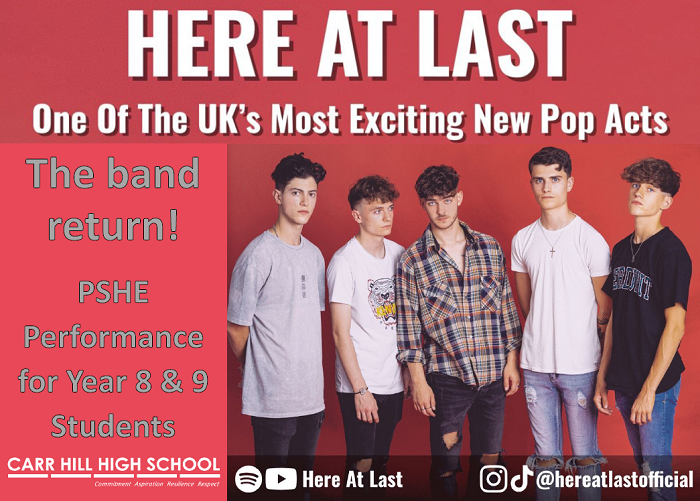 Back in January, Mr Beale arranged for 'Here At Last' to visit our school and talk to Year 9 students about mental health, online safety & cyber bullying. The band were a great hit with all our students and caused quite a stir. We are very excited to say that the group will be returning next Tuesday, 18th October, to perform for Year 8 during Period 1 and Year 9 during their PSHE lesson in Period 2. We look forward to welcoming them back to school.
To see photos from their last visit, click here - 'Here At Last' January 2022
Band info
Here At Last are a band from all over the UK. Formed in 2020, they sold out their first headline UK tour and will be headlining another tour later this year. They are also the biggest UK boyband on TikTok, with over 2.5 million followers. Having all had their own issues with cyber bullying and mental health, the band are in the perfect position to deliver a positive message to pupils and were very excited to be given the opportunity to educate and inspire the students at Carr Hill.
For more information on the band, you can find them on social media - Instagram, Facebook, Twitter or TikTok.
A selection of music videos for their songs can be found here -