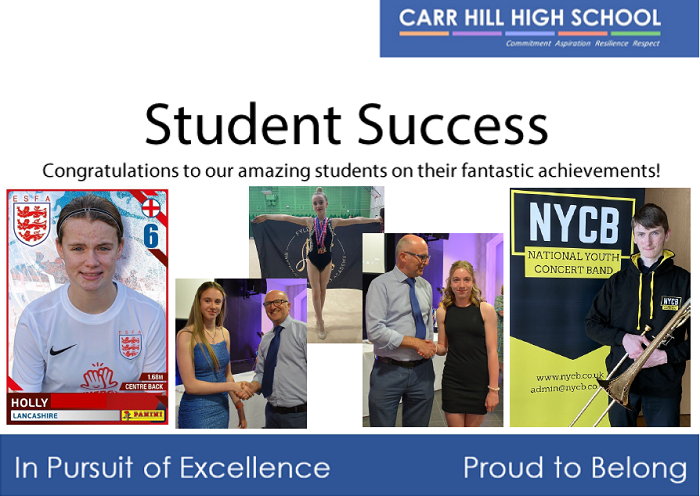 Student Success
We are exceptionally proud of all of our students, especially those who manage to keep up with their school life and train out of school for additional activities, some of them at a very high level. Here is an update of a few of our students who have had notable successes recently.
Holly - Football Signing
After 7 seasons at Blackburn Rovers Ladies FC and despite being offered a contract with them for an 8th season, Holly decided to see what other opportunities were out there, and following trials at Liverpool, was offered and accepted a contract with the U16s for the 2022/23 season. A few photos that were taken after she was offered a contract with them can be seen below (one with Mr Bamba who came along to support her at the second Liverpool trial session so was there when they offered her a contract!). See below a photo of Holly being presented with her International Cap.
She was also part of the Lancashire U16s National Final squad v Kent, playing the full 80 minutes, which they won 4-1. The following day she travelled to Glasgow to play in the England U15 v Scotland match which ended 3-3.
Euro 2022 Opening Ceremony Flag Bearer
An amazing night was had by all for the Euro 2022 Opening Ceremony and England v Austria match at Old Trafford where Holly was a flag bearer. It was a fantastic experience for her! It was also wonderful that Mr Bamba was able to join Holly's family to watch the match and Holly was delighted to see him.
England Schools FA
The Bob Docherty Tournament took place over Easter in Newcastle, which saw England play Northern Ireland, Republic of Ireland and Wales. Holly was selected to captain the match v Wales and was also presented with her ESFA international cap. It was a fantastic experience for her and memories were made that will last a lifetime.
Holly also had some photos taken with Mr Grady before breaking up for the summer term, showing him her framed England U15 Schoolgirls shirt which arrived this week. Well done Holly and good luck for the next adventure!
Click here to see some photos from Holly's recent matches and achievements - Holly Football Photos
Erin - Gymnastics
"Fantastic weekend for Erin at the British Championships" says Erin's Mum after the competition in May. Erin and her group won the Silver medal on the Saturday, meaning they are British Vice Champions for Junior Group, followed by a Silver medal for Rope. On the Sunday, they then won the Gold medal for Ball, which makes them the British Junior Ball Champions too, well done!
This followed success at the Rhythmic Gymnastics Competition earlier in May, where they won Gold in ball, Gold in rope and Gold overall, meaning that they are English Junior Champions!
Erin's mentor teacher, Mr Churm and Miss Glancy (Head of Year 10) pass their congratulations onto Erin. We are extremely proud of your achievement!
Chloe - Gymnastics
Well done to Chloe in Year 8 who won 4 Gold medals at her latest competition for Rhythmic Gymnastics, well done Chloe! What a fantastic result.
Sophie - Swimming
Sophie in Year 7 qualified to swim at the SENW (Swim England North West) Regionals competition, which took place at the end of April in Liverpool. Sophie won her heats in 100m Breaststroke and 50m Breaststroke, to compete in the finals, ranking her 4th in the North West. Sophie's Mum writes, "This was beyond all expectations and is a massive achievement, for which we are all so proud of."
We are too Sophie, and your success was noted at the Sports Dinner with a handshake from Mr Waller. Your dedication to swimming is amazing and you have worked very hard, very well done.
Daniel - Trombone
Daniel is in Year 10 and has had many notable successes in Trombone over this past year, his mum has let us know that Daniel had passed his Grade 8 Trombone exam with Distinction. Well done Daniel! He has also taken part in the NYCB (National Youth Concert Band) and played 1st Trombone in a NYCB concert at Birmingham University earlier this year. He received lots of praise from the conductor of the NYCB, Jon Parker, and Trombone tutor Robb Tooley.
Well done Daniel, what an amazing achievement and wonderful memories made.