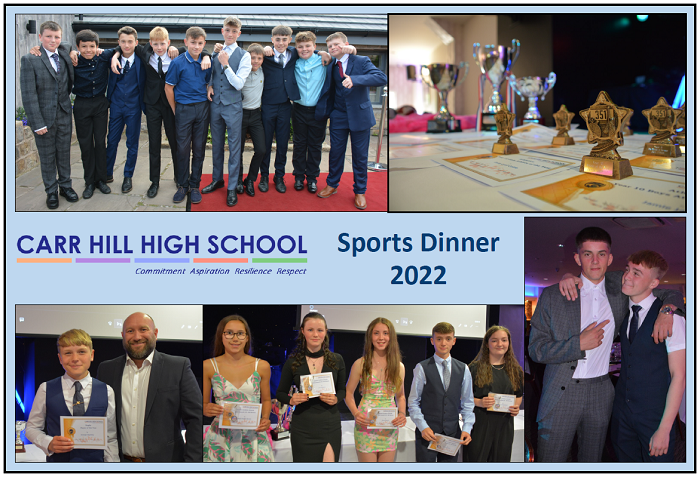 Last Thursday saw the return of our eagerly anticipated Sports Dinner Celebration Evening. Most of the attendees on the night had not experienced one of these celebration evenings before, with Year 10 being the only year group to attend previously when they were in Year 7! The Sports Dinner was held in the Woodlands Suite at Ribby Hall, with a red carpet entrance, great for photo opportunities for family members and making an exciting entrance.
Everybody attended 'dressed to impress', with a strict dress code of no jeans or trainers, it was lovely to see everyone wearing their best outfits. Students were asked to take a seat for the awards part of the celebration, with a long list of certificates, badges, trophies and cups awarded to those who had achieved the highest accolades in PE and extra-curricular activities over the last year.
There were awards for the individual sports that we run, Player of the Year for each, certificates for those students who have competed in multi-school competitions, certificates and badges for next years' Sports Captains, and for those who inspired others to engage with the 'This Girl Can' club.
Those students who have helped at events for PE over the year as Sports Leaders were given Bronze, Silver or Gold Awards for the time they had devoted to this. The Sports Captains and Vice-Captains were announced for the next academic year, and Mr Waller gave an individual handshake to a range of competitors who have excelled at County level and beyond at a range of sports (golf, swimming, football and gymnastics). The Cups were then given out to celebrate the Sports Personality of the Year for each year group.
After something to eat, Mr Haydock then held a competition with a few prizes to be won. All students names were entered into a selector and picked at random, Brandon the first winner picked the £25 Amazon gift card, others choosing sunglasses, 'snuggie', footballs and hoodies. We then attempted to take whole year group photos on the dance floor, before the disco started.
A great time was had by all and a selection of photos can be seen by clicking here - Sports Dinner 2022