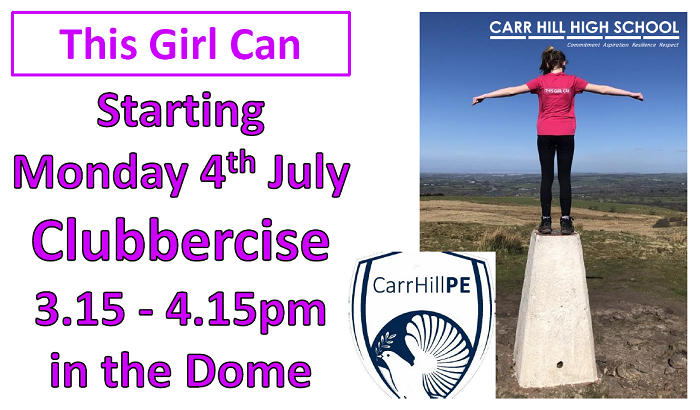 Mrs Carroll and the 'This Girl Can' Instructors are welcoming existing 'This Girl Can' attendees and anyone wishing to join in, to come to the new class, Clubbercise, starting on Monday 4th July after school until 4.15pm. The class will be held in the Sports Dome and is a great chance to get fit whilst enjoying time with friends.
'This Girl Can'
This project aims to give girls in Years 9, 10 and 11 the opportunity to try and experience new activities within school every Monday evening from 3:15pm - 4:15pm (times do change). Activities on offer include Clubbercise sessions, colour dash rush, yoga, body combat, body pump and many more.
We are employing an external instructor to lead some of these sessions every week all the way through to the end of the academic year. Alongside the practical sessions, we will be providing education on healthy eating and mental health sessions, which are optional.
A presentation with more information can be found here - This Girl Can
For more information or any questions, please see Mrs Carroll or the PE Office.
Fundraising Activities
To find out more and see some of the fundraising activities and challenges that the 'This Girl Can' group have completed, click here - This Girl Can