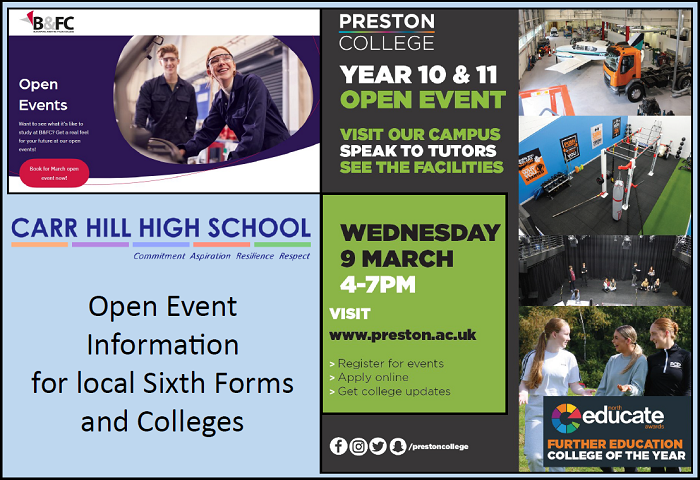 There are a range of Open Events due to go ahead at local Colleges and Sixth Forms. More information can be found under the Careers tab on the website, click here to access the page - Upcoming Events and Useful Information.
More information is provided below regarding B&FC and Preston College Open Events going ahead tomorrow evening - registration required!
Blackpool & the Fylde College - Website
Open Event - Wednesday 9 March 2022 (4:30pm - 7pm)
On-site open events are back! Want to see what it's like to study at B&FC? Get a real feel for your future at our Open Day! We're excited to welcome you on campus and experience B&FC in person! Take a look around our amazing facilities and see what makes us one of England's leading colleges. New T Level courses, Apprenticeships, Diplomas and Triple Diplomas - find out everything you need to know about your next step after leaving school. You can explore our fantastic range of courses, meet our expert tutors and discover all the support we offer. Our careers team will be on hand to offer expert advice and guidance about your future.
B&FC Open Events are your ideal opportunity to learn why B&FC is the right place to get set for your future career. At every event, our industry trained tutors will be available to advise you on all our subject areas and the support you can expect throughout your learning journey. To pre-register for the next open event, click the link here -
Preston College - Website
Open Event - Wednesday 9th March (4pm - 7pm)
At our Open Events you can speak to our course tutors, specialist support staff, advisors and learners about the experience you'll get at Preston College. You'll also have the chance to explore our industry standard facilities, Apprenticeships and learning opportunities such as T-Levels and Scholarships. For more information and to register, click the link here -