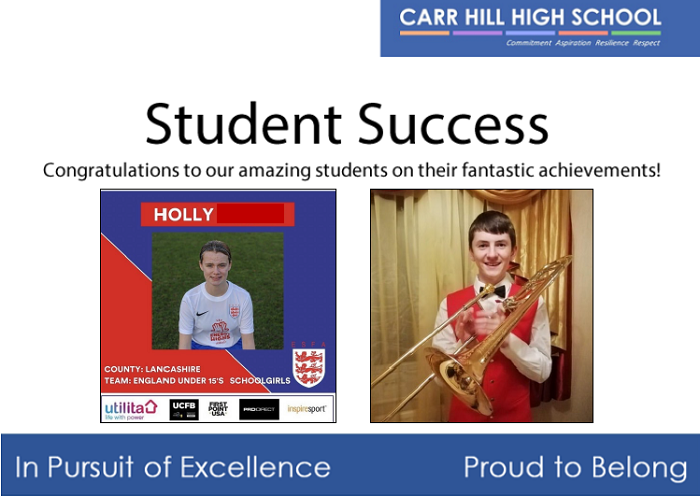 Football Success for Holly
We are so proud of Holly from Year 10, who has been selected for the England U15 Schoolgirls International Squad. Holly had to put her all into the entire trial period, representing her county and School. Chris Baty, the U15 Girls IPC said, "Throughout the trial process [Holly's] attitude and behaviour has been a credit to her county and herself."
The process included playing for the county in regional trials, which then led to the construction of four regional squads. This progressed into head to head matches which then led to the final stage, which is a huge achievement in itself. Mark Hignett, ESFA Chairman said, "It is a fantastic achievement for these players to have made it through what is a tough trials process, to be able to go on and represent their school, District, County and their Country for this year's International Season. On behalf of the English Schools' FA, I would like to congratulate each and every selected girl on their achievement."
Holly is due to play in the Independent Schools U15 team in March (a rearranged match from 9 January which was cancelled due to the escalating Covid situation) at the Charterhouse School in Surrey, and during the half term break next week, Holly will be at the ESFA training camp at St George's Park, Staffordshire (training ground for the men's England team) where she will train with the England team for the first time. The team will then play in the Bob Docherty Tournament during the Easter holidays, which will see the England girls play Scotland, Wales and Ireland.
Congratulations Holly! And good luck!
Music Success for Daniel
Daniel in Year 10 has excelled himself once again by being invited to audition for the Liverpool Philharmonic Youth Brass Band. Daniel's mum has let us know that they received glorious feedback about his audition and he is delighted to announce that he has been offered a place. Mr Churm, Daniel's mentor teacher, writes "This is really excellent news... Daniel must be so pleased and proud of this amazing achievement... It's so good to hear of his continued progress in his musical career."
Miss Clancy, Head of Year 10, agreed that we must celebrate this good news. Well done Daniel, we are all very proud of you and all you have achieved.