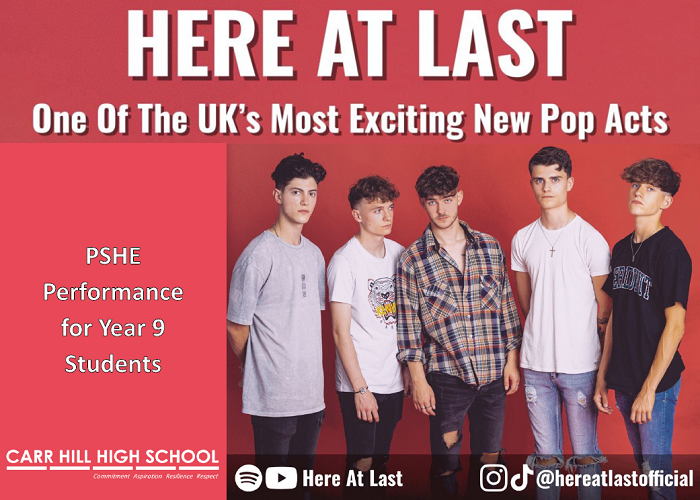 Mr Beale, our Personal Development and Careers Lead, booked one of the UK's most exciting new pop acts to perform and deliver a PSHE message on mental health, online safety & cyber bullying to our Year 9 students, during their PSHE lesson last Thursday.
The band performed a number of songs and talked about their personal journeys and challenges, including details of their struggles/close family member's continued battles with anxiety etc. The format of the performance, singing a song (with a band member playing guitar) and then taking some time to talk between the tracks, meant that the students were enthralled by what the guys had to say and it kept their interest throughout. The band encouraged those students who may be feeling overwhelmed or anxious, to reach out and get help from a trusted adult or family member. They used their own experiences to explain how important it is to deal with situations, whether this is online negative/hate comments, cyberbullying or issues with physical/mental health, as quickly as you can, getting the help needed.
They then answered some questions, giving the students a chance to learn more about the members of the band and their experiences when they were at school. One of the questions asked was the ages of the band members, when they answered 18 in turn, and one member 19, the audience did a collective "aaaahhhhhh" (how cute), which made Mr Beale laugh as the students themselves are only 13 or 14 years old. The atmosphere was one of respectful concentration, followed by enthusiasm to get hold of one of their leaflets with a chance to get show tickets for their next tour. The band took time at the end of their performance to autograph the leaflets that had been handed out and chat to the students one-on-one. It was really encouraging to see how many students were keen to get theirs signed, and the queue ended up being very long.
The band realise that it has been a very difficult time over the last couple of years for many with their mental health, and they hope to offer something a bit different, lift spirits, entertain and ultimately educate pupils on some very sensitive subjects. They did just that and the students were an exemplary audience, Mrs Beesley made sure to tell them that and the students continued to be excited throughout the day.
Thank you so much to the members of Here At Last, for this fantastic opportunity for our students, and thank you to Mr Beale for arranging the visit.
A selection of photos from the event can be seen below -
Band info
Here At Last are a band from all over the UK. Formed in 2020, they sold out their first headline UK tour and will be headlining another tour later this year. They are also the biggest UK boyband on TikTok, with over 2.5 million followers. Having all had their own issues with cyber bullying and mental health, the band are in the perfect position to deliver a positive message to pupils and were very excited to be given the opportunity to educate and inspire the students at Carr Hill.
For more information on the band, you can find them on social media - Instagram, Facebook, Twitter or TikTok.
A selection of music videos for their songs can be found here -