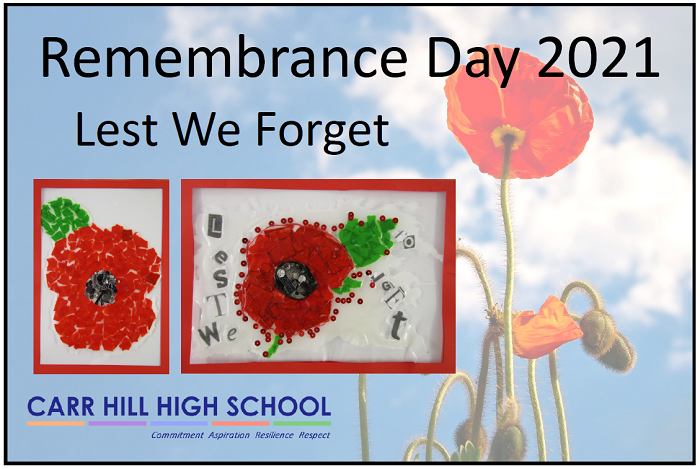 Mrs Williams, one of our Art teachers, invited a group of Year 7 and 8 students to attend an Art workshop after school with the theme Remembrance. The students were asked to create some mixed media collages, using PVA glue and a range of media including tissue paper, sequins and lettering. The end results were extremely effective. This workshop was aimed at our Pupil Premium students and although it wasn't as well attended as anticipated (due to another event taking place at the same time), the students who were there worked extremely hard to create these wonderful pieces of art. Well done!
Remembrance Day 2021
This Remembrance Day marks 100 years since the nation's collective Remembrance traditions were first established. The poppy, two minute silence, Armistice Day, the service for the Unknown Warrior, and the march-past at the Cenotaph are traditions that millions participate in every year. More information about the Royal British Legion can be found by clicking the link here.
We will be holding a two minute silence throughout school today at 11am. Poppies are available to buy for a small donation at Reception and in the Hub.
Remembrance Sunday 2021
On Remembrance Sunday, Deputy Head teacher Miss Jordinson and Senior Students Fin and Paighton, have been invited to attend Kirkham's Remembrance Service and Procession. They will process through Kirkham to the Cenotaph where the service will take place at 2pm. We are proud to be part of the Kirkham community and show our respect at this event.