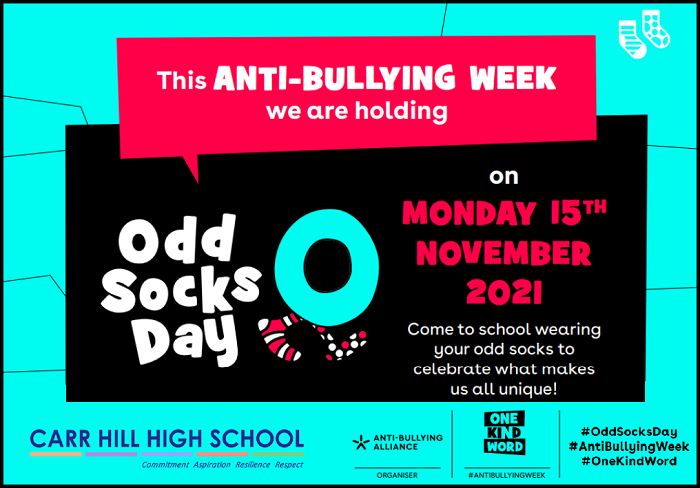 Anti-Bullying Week 2021 starts on Monday 15th November and runs throughout the week until Friday. We will be starting a week of raising awareness with Odd Socks Day, all students need to do is wear odd socks! It's a great way to celebrate what makes us all unique, and no need to buy any special props or create elaborate costumes, just wear your best pair of odd socks.
We are not asking for donations, as we are just raising awareness of the issues of bullying and ensuring a memorable start to Anti-Bullying Week. Those who wear skirts and tights to school can just put the odd socks over their tights. Keep your eyes peeled for any staff members who might be wearing odd socks too!
Anti-Bullying Week 2021
The theme is 'One Kind Word' - 'Let kindness fuel kindness this Anti-Bullying Week'. Kindness is more important today than it has ever been. The isolation of the last year has underlined how little acts of consideration can break down barriers and brighten the lives of the people around us. Anti-bulling work should be about hope, and the positive and kind things we can do to halt hurtful behaviour in its tracks.
The video here explains this further -
Quotes from the Anti-Bullying Alliance
For more information, you can visit the website - Anti-Bullying Week 2021