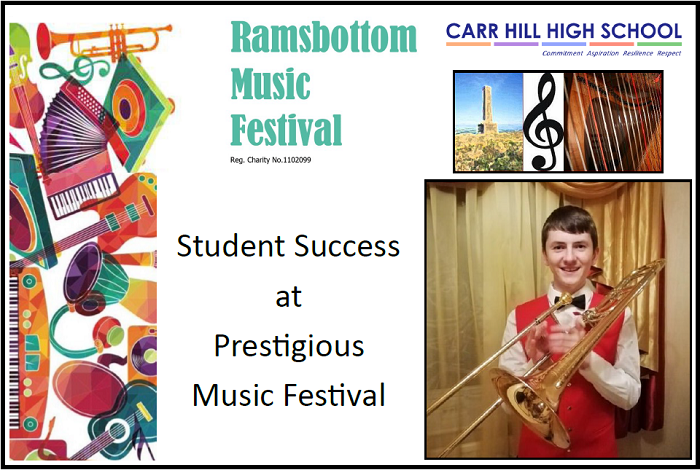 In December we wrote about Daniel in Year 9, who had achieved a Distinction in his Grade 5 Trombone exam during lockdown last year. We are so proud of Daniel who, this February, competed in the prestigious Ramsbottom Music Festival at Grade 6 - Advanced Player Level, which was held virtually due to lockdown restrictions. Daniel's mum let us know that Daniel had a zoom meeting with the judge for his category and he delivered the news to Daniel that - he had won! Daniel's family are so pleased for him, and we are so proud of all the hard work and commitment from Daniel to succeed at this level, at such a young age.
The experience of the festival has been different this year, with entries being recorded at home and then uploaded online. The organisers still aimed to make the festival an enjoyable experience, with help available to make sure entrants made the best of their performances. There are a variety of reasons musicians enjoy taking part in the festival, fun, extra practice for an upcoming examination, the experience of independent adjudication or the chance to win a medal/trophy. More information about Ramsbottom Music Festival can be found on their website or Facebook page.
Daniel's mentor Mr Churm and Head of Year 9, Miss Clancy are extremely impressed and exclaim "Amazing!"
Well done Daniel, all your hard work paid off, what a fantastic achievement! Congratulations!
Previous article can be found by clicking here - Fantastic student achievement in music exam