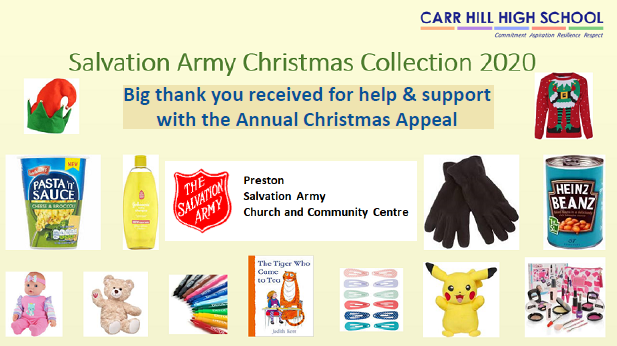 During early December, we were overwhelmed by the number of donated items brought into school for the Salvation Army Christmas Collection. Food items were received in abundance, along with gifts for all age ranges of children and young people, who would otherwise not have received anything to open on Christmas Day. We also had Festive Finery Fridays, where students could wear an item of Christmas clothing and bring a donation of £1 to be added to the appeal.
We have received a letter from the Salvation Army to express their deepest gratitude in all that was donated and to let us know how the community was supported at this extremely difficult time of year -
261 families were given food hampers
1233 bags of food and toiletries were given out
290 children of ages 0 - 10 years old were given multiple gifts
216 children and young adults aged 10 - 18 years old were given multiple gifts
Approximately 5060 toys/gifts were distributed in total
Claire Bowerman, Community Centre Co-ordinator for the Salvation Army writes, "We were not quite sure how donations would be during this appeal due to Covid-19 and we were quite worried that donations would be low, however the donations flooded in and we were able to provide all families referred to us with food and gifts... Without all the wonderful donations we received we would have been unable to help as many families as we did."
Miss Wareing was extremely grateful for all the support and also added, "As a school, we raised £481.34". This was alongside the toys and food that was donated. Thank you to all the parents/carers and students who donated, it was much appreciated.
Thank you to all the staff who helped with the collection, and making sure it was delivered safely to the donation point. The full letter received can be viewed here.