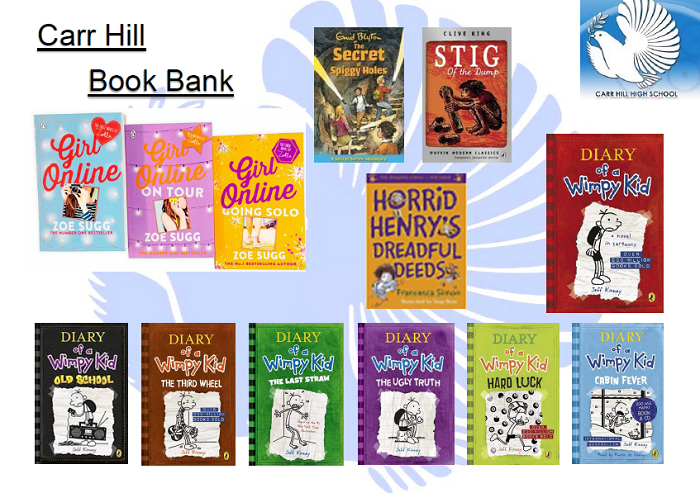 Wanted - unwanted books!
If you have any children's books which have been outgrown and may be gathering dust then we'd love to give them a good home! We have started a Book Bank so that students who may not have a wide range of books at home can borrow them.
Donated books can be dropped off at school between 9.00-14.00 - there will be a box available outside reception.
Thank you for your support!
Ready to borrow
The attached books are available for students or younger brothers and sisters to borrow. Please email Ms Fry at cfry@carrhill.lancs.sch.uk with the title of the book you would like to borrow and the name of the student.
Carr Hill Book Bank - Available
Enjoy the book for as long as you like. When it is no longer needed, it would be appreciated if the book could be returned to school.
Further information -
Please see the list of books available to borrow, email your choice or any queries to Mrs Fry cfry@carrhill.lancs.sch.uk
Books will be available to collect from Reception every Wednesday, Mrs Fry will confirm your chosen book is available
An updated list of available books will be posted weekly
When you return your book or if you have any suitable books you would like to donate please drop off at Reception, there is a marked box available for this. Books will be not offered for borrowing for at least 72 hours after being returned / donated for health and safety reasons