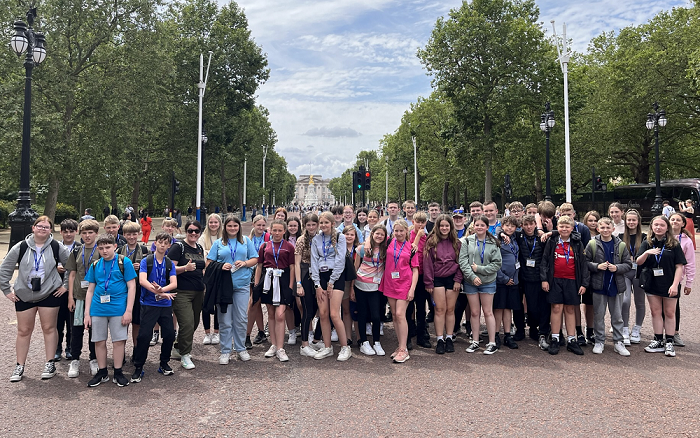 Towards the end of last term, when the summer holidays were almost upon us and the temperatures were heating up, Mrs Potts took a group of Year 8 students down to London for an action packed weekend. They visited museums, landmarks, and even had a trip on the London Eye. Everybody had an amazing time, and this trip (for the second year) has become a highlight of the summer term.
Mrs Potts wrote,
"Students left for London early Friday morning. On their arrival, they visited the Tower of London. Students were then taken to the Houses of Parliament where they were shown an introductory video about The Story of Parliament before they were given a tour. On this tour they were able to see both the House of Commons and the House of Lords. Students headed out to tea before arriving at the hotel.
On Saturday, after some full breakfast plates, we headed to the Science museum where students were able to look at a variety of displays including a space section and a mathematics section. In the afternoon, they headed to the Westminster area to go on the London Eye. This was the wettest part of the weekend and students got soaked through queueing up to go on the London Eye. After this, they headed to Leicester Square where they were able to explore the shops, including the Lego Shop and M&M World. After tea, students headed to the theatre to see Matilda (a show we recently performed in school with some of the students on the trip starring as part of the cast).
During Sunday, students were able to visit the Natural History Museum. They were able to look at all the sections and look at a variety of things including dinosaurs, insect, mammals, underwater sea creatures, volcanoes, space and the evolution of life. In the afternoon, students were treated to a river cruise on the Thames before walking through London to head to Covent Garden. Students were able to explore the markets before heading out for their final meal.
Monday was a trip to Bletchley Park where students were treated to a tour of the places where the codebreakers worked and where Alan Turing worked. Students also took part in a codebreaking workshop where they got to test their resilience levels before heading home."
Mrs Potts says, "This was a jam packed adventure for the students who got to see the capital city of London. Students got to experience a variety of activities and their behaviour was fantastic. Lots of memories were made and there were plenty of opportunities to spend time getting to know each other."
We hope this trip will run next Summer term, for our next cohort of Year 8 students. Thank you to Mrs Potts and her team of staff for the amazing opportunity for our students. A selection of photos can be seen below -
London Trip 2023