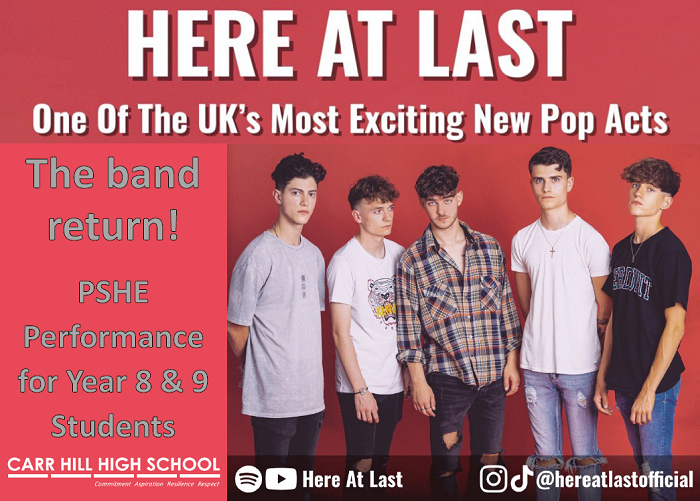 Just before the half term break, we were very happy to welcome back one of the UK's most exciting new pop acts to perform and deliver a PSHE message to our Year 8 and Year 9 students. Mr Beale, our Personal Development and Careers Lead, arranged the performance after the success of the last visit in January, for our previous Year 9 students.
The band performed a number of songs, as well as delivering a message on mental health, online safety & cyber bullying. The guys in the band can relate to the students in the audience, as they are not much older than them (at 19 and 20), and they use their own experiences to relate to the topics. They explained how it is important to deal with situations, whether this is online bullying or issues with physical / mental health, as quickly as possible, to get the help that is needed.
After the last song, they offered some time to answer questions from the audience, giving the students a chance to learn more about the members of the band and their experiences. One question was "What inspired you to be in a band?", which the guys took turns to answer. The general response was that it had not been their intention when they first started out but they found almost instant fame on the social media sensation app 'TikTok', and things had snowballed from there. They are the first unsigned pop act to sell out the Shepherd's Bush Empire theatre, and they are touring the UK next Spring, with most venues only having a few tickets left. They also answered questions about their favourite football teams, one of which was Preston North End, which Year 8 gave a very big cheer!
The atmosphere from both year groups was one of respectful concentration, followed by enthusiasm to get hold of one of the leaflets, which each member signed. We were missing one of the members due to illness, with the others feeling under the weather but managing as best as they could. The students queued patiently and the band took time to chat to the students as they signed the leaflets.
Both year groups behaved extremely well and thank you so much to the band for coming to perform and engage with the students, and thank you to Mr Beale for arranging the visit.
A selection of photos from the event can be seen below -
Band info can be seen by clicking here - Here At Last