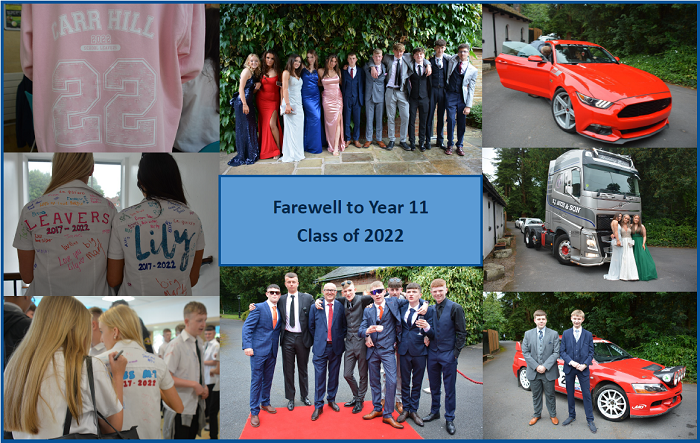 Last Wednesday was Year 11's final day in school, which concluded with a day-long celebration of their 5 year journey with Carr Hill. This started with a Leavers' Breakfast, shirt signing, final photo, followed by a Leavers' Assembly. The Year 11 students were welcomed into the canteen, where they shared something to eat and drink with their fellow students for the final time in school. This time together gave students the chance to sign each others shirts, or leavers' book, writing messages of good luck or memories to remember their journey together. Teachers from all subjects were on hand to sign shirts with messages of support and best wishes. Some of the shirts were beautifully embellished and will be treasured keepsakes. Many students brought gifts for the teachers, to say thank you for their support.
After students had collected their Class of 22 hoodies, they made their way to the field, for a final photo as a year group. Year 11 then joined senior staff members in the hall for a final assembly. Mr Waller and Miss Coulthard started things off, with a message of thanks to the staff who had helped all of the students over the years, and an extra special well done to this year group, who have had a big gap in classroom based learning (at a critical time) due to Covid. The students then enjoyed some photos from past school trips, dance classes and sporting successes, including Sportsman's Dinner photos from when they were in Year 7 and 8! These memories caused much laughter on occasion as the students remembered. Miss Wareing, Assistant Head Teacher in charge of KS4, gave some messages for the future and Mr Morton concluded the assembly.
In the evening, the Prom took place, at Bartle Hall near Preston. The event gave students chance to celebrate in style, everyone looked amazing in their chosen outfits and arrived in a wide range of vehicles, a lorry, tractor and stretch limo to name a few! A magician entertained and amazed at the tables, and a sit down meal came before a good boogie on the dance floor. Mr Waller writes "Students at the Prom certainly looked superb, their behaviour was fantastic and it was a really enjoyable evening."
We wish every member of the 'Class of 22' all the very best for the future and thank you to all the Year 11 students who put their all into school life. The Carr Hill community wishes you all the best and keep in touch! We look forward to seeing you all on Results Day in August.
A selection of photos from each event can be seen below.