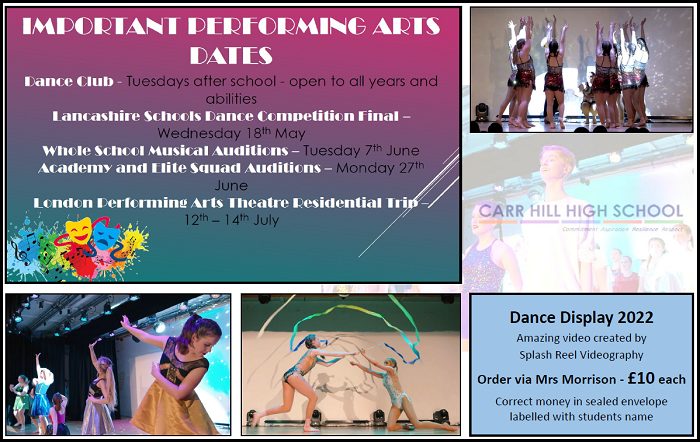 There are many dates coming up soon for the Performing Arts department, including the Final of the Lancashire Schools Dance Competition and Auditions for the next whole school musical. It's a very exciting time and lots to get involved with! More info can be found on the poster below, click to enlarge.
Dance Display videos are still available to order!
We are so incredibly proud of our students who took part in the Dance Display 2022 before the Easter break, they all worked so hard and it really was a spectacular show! As a school community we were so excited to finally be able to bring back live performances, and this really was a celebration of Dance by our talented students.
Adam Vann and his team, our Sound and Lighting Technical Engineers, offered to film the performance, using the latest technology and state of the art camera's, and we are pleased to offer the DVD for sale at £10 each. This can be ordered via Mrs Morrison, please make sure the correct money is put in an sealed envelope, labelled with students name.
A teaser for the video can be seen below -