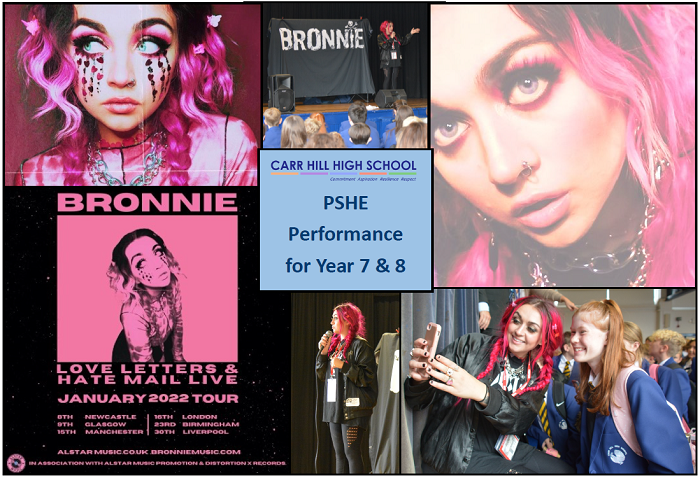 Mr Beale, our Personal Development and Careers Lead, booked a female artist to perform and deliver a PSHE message on mental health, body image and LGBTQ+, to our students in Year 7 and 8. Bronnie is a Pop and Rock Artist from the North West, who has gained extensive touring experience around the UK, Europe and USA. Bronnie has supported a number of high profile acts including Avril Lavigne and Little Mix. Bronnie's recent single was #1 in the UK Rock charts, she also has a podcast and a radio show. Having had her own struggles with bullying, body image and mental health, Bronnie is the perfect advocate to deliver such a positive message to young people.
Bronnie started the visit with a performance of a few songs, a couple of covers that the students could sing along to, and a couple of her own original songs to help get the message across. The live performance was so engaging, with all the students clapping along and thoroughly enjoying the show. Once Bronnie started to deliver her message in the speaking part of the performance, she had all the students hanging off her every word. The importance of the message was explained and Bronnie used her own experiences to encourage the students to make good choices.
Bronnie discussed mental health and the causes of mental health problems (stress at school, relationships etc), she even discussed a time when she had her own mental health issues. She talked about who to turn to for help and the importance of speaking up. She talked about body image, social media, treatment of others, celebrating diversity, what to do if you are being discriminated against and why it is wrong to discriminate against others, especially linked to LGBTQ+ issues. Bronnie asked for the students to show if they felt the same way, or if they have had a similar experience, many hands were raised or heads nodded in agreement.
Bronnie ended the performance with a Q&A session, with many students raising a hand to have a turn. They asked mature, sensible questions and waited for their turn patiently. Mr Beale concluded the performance with a talk to the students about how we treat each other, teachers, parents, members of the community and how we represent our school.
Students who could were invited to stay behind for a short time, and before too long Bronnie had a long queue of students wanting autographs or a selfie on their phone (only permitted as this was after school). Bronnie was overwhelmed by the enthusiasm of the students but was very accommodating. Thank you so much to Bronnie and her tour manager for this fantastic opportunity for our students, and thank you to Mr Beale for arranging the visit.
More information about Bronnie can be found on her website, including information about her social media - Bronnie website
A selection of photos from the event can be seen below -