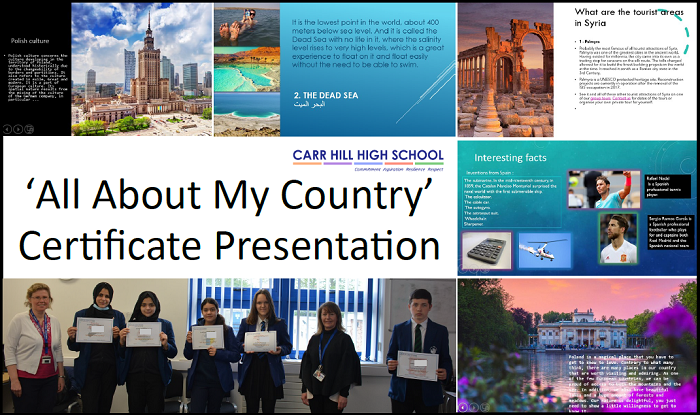 In early May we wrote about a group of students, who had worked extremely hard on a project called 'All About My Country'. These students arrived in the UK with little or no English speaking and writing skills, and after a short time in our school working with Miss Ajiteru, they have created the most beautiful presentations about their country of origin. The students were asked to create a presentation, which they then presented in the lessons, and talked about the national flag, symbol, geographical location, environment, education, popular tourist destinations, favourite local dishes amongst many other things.
Mrs Darkin, Associate Assistant Headteacher & SENCO, heard about the work they have completed and is so proud of the students, and all they have achieved in the short time they have been attending our school. They have adapted amazingly well to all the challenges they have faced and they have worked so incredibly hard to learn lots of new skills. Mrs Darkin wanted these students to be rewarded, with a certificate to show how proud we are, and a High Street Voucher to treat themselves to something of their choice.
Miss Ajiteru said a few words about each student as she awarded their certificate and voucher, and we also said 'Goodbye and Good Luck' to Year 11 student Hajar, who will continue her studies at Cardinal Newman College in September. The students have worked extremely hard, and Mrs Darkin, Miss Ajiteru and the whole Carr Hill school community are extremely proud of you all.
A selection of images from the Certificate Presentation can be seen below and to read the previous article, please click here.
'All About My Country' Certificate Presentation